A week after the U.S. election, the rants and rhetoric have subsided… somewhat. Now the rants are about fiscal cliffs, political obsolescence and bipartisan solutions to really big problems.
But no matter what the issue, especially once the election is over, community discussion, connection and engagement are essential to building a healthy community and a healthy country. Sharing your voice gives government and other agencies an opportunity to consider your ideas and respond accordingly.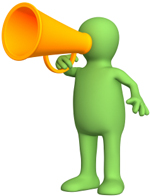 Here are 10 ways to take part in public discussion or share your opinions and concerns:
1. Write a letter to the editor — Whether on-line or in traditional print, letters to the editor are one of the most read sections of a newspaper. If you live in a big city, consider sending your letter to both the major dailies and the smaller community papers.
2. Write a blog — On-line communications have made having your say easier than ever. But if you want to be read and taken seriously, keep it short, sweet and respectful. If you have an issue with something, don't just complain — offer an alternative solution. Provide food for thought.
3. Comment on line and via social media — Share your concerns or opinion on-line via Twitter, Facebook or in the comment sections below news articles, etc.
4. Show up: attend public meetings — Public meetings are happening all the time, and engaging in person is a great way to make a lasting impression. Find out about upcoming public meetings through  your municipal website, library, community bulletin boards and the events section of your local paper.
5. Respond to request for comments — During official consultation periods for projects such as environmental assessments, rezoning approvals, etc., there is a call for public comment. If you have concerns, share them at a meeting or email them to the relevant parties. Public comment received on approval processes is taken very seriously.
6. Attend council meetings — Show up to see how your local community is run. Get to know your council members and engage with them directly. Elected officials need to understand your concerns throughout their term, not just during election time.
7. Present at council meetings — Once you've shown up at council, consider speaking directly to them. Meetings allow for questions from the floor or you can request to present to council on a specific issue, event or project.
8. Write letters to your elected officials — Before the days of email, one letter written to an elected official used to anecdotally represent the voice of 100 people. So write a letter — an old-fashioned, signed and postage-stamped letter — the effort it takes gives it more weight than an email and is now considered to be worth even more than 100 voices.
9. Join a community group or committee — "Put your money where your mouth is" or in this case, put your time where your concern is. Get directly involved in a group that represents your passions, concerns or ideas.
10. Start a meeting or discussion group — If you can't find a group that represents your concerns or ideas, then start one. Almost all community or activist groups started with just one or two people having a conversation that led to a commitment to action.
So use your voice, have your say, engage in the conversation. You'll likely be pleasantly surprised by the response you get from friends, neighbours, community leaders and yes, even, elected officials. And your efforts may inspire your friends and neighbours to engage in the conversation too.

~ Maureen Douglas, CPF-IAF
Sign up for the "Weekly Wisdom" blog or for Mobilize on the go, click here: