There's no shortage of articles, blogs and general discourse about the challenges plaguing our society. Common throughout much of the discussion is one word – disconnect.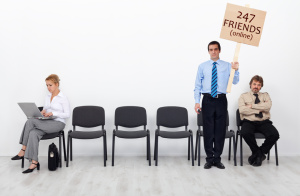 We hear about social disconnect all the time, with reminders on social media platforms or from heart-felt videos imploring us to put down the smart phones and meaningfully connect with each other. Most of us nod wisely at the messages, agreeing with the general directive — "less technology, more human connection." But are we taking action?
I could rattle on about the causes and impacts of disconnection, affecting everything from crime rates to mental health to workplace performance. But I'd rather focus on what can we do about it. Simple: let's start connecting.
Step One: Connect with Hello.
The world needs positive connections and it needs them now. There's no better way to start than with hello.
In 2012, concerned about growing community disconnect, I created www.thehellopledge.com, a site where folks make a conscious commitment to say hello to people they pass throughout their day. It started strong but my quest for Hello Pledge world domination was hijacked by the usual suspects: work, life and time. But no more excuses.
I need your help in reigniting the movement. The Hello Pledge is waiting at www.thehellopledge.com. I invite everyone — and I mean everyone — to sign on and commit to saying hello to folks in their communities or wherever they may find themselves in our interconnected world. At first you'll be amazed (maybe even a little uncomfortable) at the surprised looks you receive. But you'll also be moved by the look of gratitude in the eyes of people you've acknowledged.
So please share a smile and a hello. Help the folks in our communities who fear they've become invisible remember that they're connected to a community of people who care. Spread the word. Share the love.
I'll share more steps to increasing our human connection in coming blogs. Please share your ideas too – together we can create thriving communities that place the highest value on kindness and human connection. And it all starts with hello. Make your commitment here.
Public, workplace and leadership engagement professional, Maureen "Mo" Douglas is a radically positive agent for change. Click here for Mo's FREE e-Guide to Better Public Engagement. Follow her on Twitter.