Increase innovation, collaboration and productivity with trust.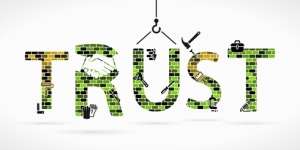 Do you think of trust as a "soft skill" or a "nice to have"? Well, rethink it, because trust is essential to achieving success, especially for folks who work in team environments.
Here's how the Oxford Dictionary defines it: "Trust: Firm belief in the reliability, truth, or ability of someone or something." Pretty important stuff, don't you think?
Trust allows us to:
Share bold, new ideas because we know they'll be considered with respect.
Take calculated risks and innovate, knowing that our efforts are supported.
Feel confident in asking the team for help in solving problems because we know we won't be judged for not achieving the solution by ourselves.
Resolve workplace differences because we can have frank, kind and respectful discussions that get to the root of the issue.
Give others the benefit of the doubt. Even high-performing team members can have an off day — trust and benefit of the doubt means conflict is kept to a minimum while morale and productivity thrive.
Believe in our organization's leadership because the leadership trusts us with important information and shares insights about how we're doing and where we're going.
Trust drives teamwork and team success, so it's a value worth developing, protecting, preserving and defending. When your team trusts one another, they'll fire on all cylinders and perform better than you ever imagined.
One caveat — trust is fragile. It takes time and effort to earn trust, but it can be lost in a heartbeat with one breach of integrity. As Joni Mitchell sang, "Don't it always seem to go that you don't know what you've got til it's gone?"
Focus on building organizational trust this year and you'll reap the benefits: with your teams, your customers and your bottom line. Trust me.
Develop a trust and values-based culture with Mo's participatory workshop: "United and Ignited: Creating A Values-based Culture for Team Success" Find out more.